by Francesca Pirani
Again this year, Smart Eventi contributed to the prestigious Fuorisalone, which is held yearly in Milan in conjunction with the Salone del Mobile and provides us with the chance to showcase the brands of our clients.
We collaborated with Fundermax for this 2023 edition, which was named "Future Lab." The company brought the Fundermax Jungle to the Fuorisalone, a very creative setup that could evoke the jungle in the middle of Milan while also recalling the incredible variety of its products. This interview describes the wonderful interaction we had.
Would you like to plan an event for the upcoming Fuorisalone? Contact us!
Interview with Fundermax, whose "Future Lab" pavilion at Fuorisalone 2023 we joined as a supporting partner
Say a few words about yourself. What is your industry of operation and who is your target market?
In addition to being the leading company, Fundermax is part of a Costanza Industries holding company. It produces panels for ventilated facades or the exterior of buildings along with laminated panels for the furniture and furnishings industry.
For the first time since the brand's transformation in 2019, you went to the Fuorisalone with a project called "Discover the Jungle." How does your exhibition fit into the "Future Laboratory" theme for this year and what is its meaning and purpose?
To demonstrate to our target audience for this Fuorisalone, which is specifically design architects, that you can do anything with our products, we decided to create this installation in collaboration with the studio Architettura 23bassi. Thus, there are giraffes and zebras in addition to furniture and ventilated facades.
In fact, one of our products' unique qualities is that you can design graphics to print on our laminates. As you can see in the installation, we used the reference textures for the various animals to create a giraffe and a zebra. As a result, our goal was to give visitors a 360-degree view of an urban jungle in the heart of Milan.
The goal of your exhibition is to create a sensory experience. What emotions did you hope to evoke in viewers of your installation, and how did you intend to accomplish the goal?
In fact, given the importance and intensity of Fuorisalone and Salone del Mobile, we wanted to offer all visitors a moment of rest and encourage them to enter a setting separate from the city, the traffic, and the current excitement. In an effort to give them a break from the challenging Fuorisalone days, we made an effort to simulate the sounds of the jungle and the smells of tree bark.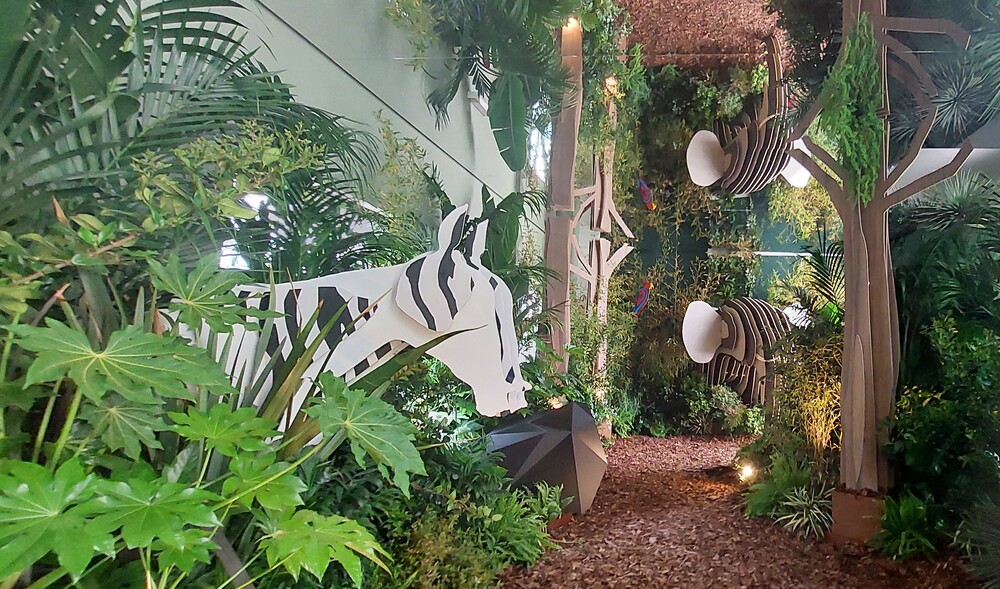 Why did you decide to work with us at Fuorisalone as your supporting partner? How did you find working with Smart Eventi and in particular Stefania, our event and pop-up manager, who has this kind of expertise?
We selected you because you are very flexible and, particularly with Stefania, there was immediately a feeling of strong empathy, allowing us to find the best solutions to our needs. Any issue that arose was quickly resolved, and even in the most challenging situations, this commitment was always displayed with a smile on the face. Working with you was a pleasure.