---
---
We want to get ready for 2018 by taking a closer look at the most promising new actors in the Italian startup scene. The lively and ever growing ecosystem that has been developing over the past decade is drawing an increasing number of international investors. Venture capitals are often attracted to highly innovative startups, of which there is no shortage in Italy. It's not been easy to narrow our selection down to five: there are dozens of new startups being founded every year, many of which can be said to be revolutionary in their own field. Some of the startups listed in this article were financed for over a million Euros and scaled up, while others could go to market on a much tighter budget. Some of them are aimed at the B2B market and some are marketed directly to the general public. What they all have in common is the solid foundation of their original project, which makes us sure we will hear more about them. If you are planning on investing in the Italian startup ecosystem, watch out for these five potential unicorns.

Planning an official launch for your startup in Italy? Find the right venue!
5 Italian startups to watch out for in 2018
Filo – track your valuables!
How many times, while searching for your keys or wallet, have you wished that these objects, like mobile phones, could simply be "called" and made to signal their location by ringing? The founders of Filo just granted your wish. The Filo device can be attached to your small valuables and then made to ring by using an app on your smartphone. The device works both ways: if you can't locate your phone, you can make it ring by pressing a button on your Filo device. This system runs on Bluetooth connection, which means there is a limited range in which you have to be for your Filo device to actually ring. If your device is out of your phone's Bluetooth range, you can still check its last registered position. And if you are worried you are going to leave your valuables behind, you can get the Filo app to warn you when you are about to get too far away from them. Filo was founded in 2014, was accelerated by Luiss Enlabs and was ranked among Italy's best startups within a year.
Manet – next generation connectivity for hotels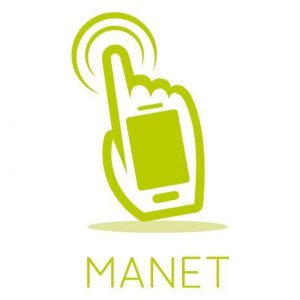 Once upon a long ago, we used to travel around the world and write postcards, calling home sparingly. Nowadays, being constantly connected and able to make or receive calls and share information online is universally considered a basic need. High roaming costs are a bane to international travellers. Manet has the perfect response. This is another successful project that benefited from Luiss Enlabs' acceleration program. It provides a unique mobile connectivity solution for hotels and their clients. Hotels offering the Manet packages can provide a special smartphone for their clients, which grants them unlimited calls and data, with a 4G connection in the city area, as well as special services such as room call, maps, bookings & reservations for local events and attractions, and a permanent link to the hotel. Manet phones, which use a customised version of android technology, can also be used as hotspots for personal devices. As well as providing unquestionably useful services to clients, Manet offers an unprecedented opportunity to accommodation facilities, which can collect data on their clients favourite activities and destinations and use it to plan partnerships and marketing strategies.
Oval Money – personal finance made easy
To anyone who is interested in startups with serious growth potential, Oval Money comes with the best possible references, as it was founded by former Uber Country manager Benedetta Arese Lucini. Oval Money is a user-friendly app, designed to make personal finance approachable by users who have no specific knowledge of finance in general. By automating the saving of small sums, monitoring spending and identifying accessible investments, it allows users a greater degree of control on their finances and promotes education and transparency within a market that is often accused of lacking both. Oval was financed by a joint capital by Intesa Sanpaolo and b-venture with a round of 1,2 Million Euros. Another unique feature of this app is its integration with Facebook, which allows user to connect their savings to their social media activity.
Scooterino – Uber for scooters
Scooterino does pretty much what it says on the tin and it is the first of its kind in Europe. The service was first launched in Rome and then extended to Milan, Florence and Genoa. Much like Uber, it allows users to get rides with private drivers. Very much unlike Uber, it is unlikely to anger taxi drivers and get banned from cities for the foreseeable future. Payments – which are always referred to as "refunds" – are made through the app, which suggests a certain amount. The user can accept the suggested payment or make a higher offer to secure their ride in a hurry. Given the delicate nature of its business, Scooterino is very particular about safety and interviews all riders individually before allowing them to join the community. Rides have to be regularly ensured and riders have to provide a regulation helmet for passengers. Feedback is also essential to the healthy functioning of the Scooterino community: passengers give it after every ride. With public transport and car sharing services constantly at the centre of heated debates, it is worth keeping an eye on this growing startup.
Green Energy Storage – working for a sustainable future
Green and renewable energy is one of the most interesting fields of research of our time, one that is likely to shape our collective future more than any other. The heightened attention on the subject and the indisputable quality of the project led to the successful crowdfunding campaign for on Mamacrowd that raised 1,2 Million Euros for Green Energy Storage. This promising Italian startup researches advanced sustainable technology for energy storage optimisation, working with a team of international scientists. Their goals include producing and storing renewable energy, but don't stop there. Green Energy Storage also aims at developing a new commercial system based on organic flow batteries, a system that is both environmentally sound and financially sustainable, with lower production costs and a longer life-cycle. The point of energy storage is counteracting the high costs and inconsistent availability of most natural renewable sources.
Need help starting your business in Italy? Call us today!