Forecasting the end of lockdown for sure is not easy, we know, but we like to be optimistic. By mid-June, we will be talking about openings for theatres and other venues and, depending on how the vaccination programme proceeds, by this summer we may be able to organise outdoor events again. The deadline is currently set for July 1st and, while we are accustomed to sudden changes with this pandemic, we can say with certainty that, when the time comes, it will not be possible to go back to hanging out in large groups the way we did before the pandemic, but it will be necessary to do so in accordance with precise rules on health, safety, and social distancing. This is why you should be planning ahead! If you are thinking of organising an open-air event in Italy this summer, choose a venue that will guarantee maximum safety for your staff and guests and book it now! Here are some ideas from our extensive network of event venues in Milan.

Try these 5 venues for your open-air event in Italy this summer!
1. An elegant loft with an artistic feel
In the centre of Milan, you will find a splendid 200 square metre loft, with outdoor space and designed to accommodate, under normal conditions, up to 70 people. The atmosphere is intimate and homely, but with an artistic touch that makes this the ideal venue for exhibitions and workshops. The space is a former carpenter's workshop and, since 2009, it has been used as a contemporary art laboratory. The décor is innovative and sophisticated, perfect for relaxed and pleasant gatherings. Choose this space to organise outdoor events to present your product to the public and the press. If you need to plan your press day, you can also count on active support in the management of the set-up and in the choice of additional services, such as catering and sound-system management, always in compliance with the current regulations and ensuring everyone's safety at all times. If you need to showcase a product, you can display it in the large street-side windows, for maximum visibility, while your attendees can gather in the charming back garden.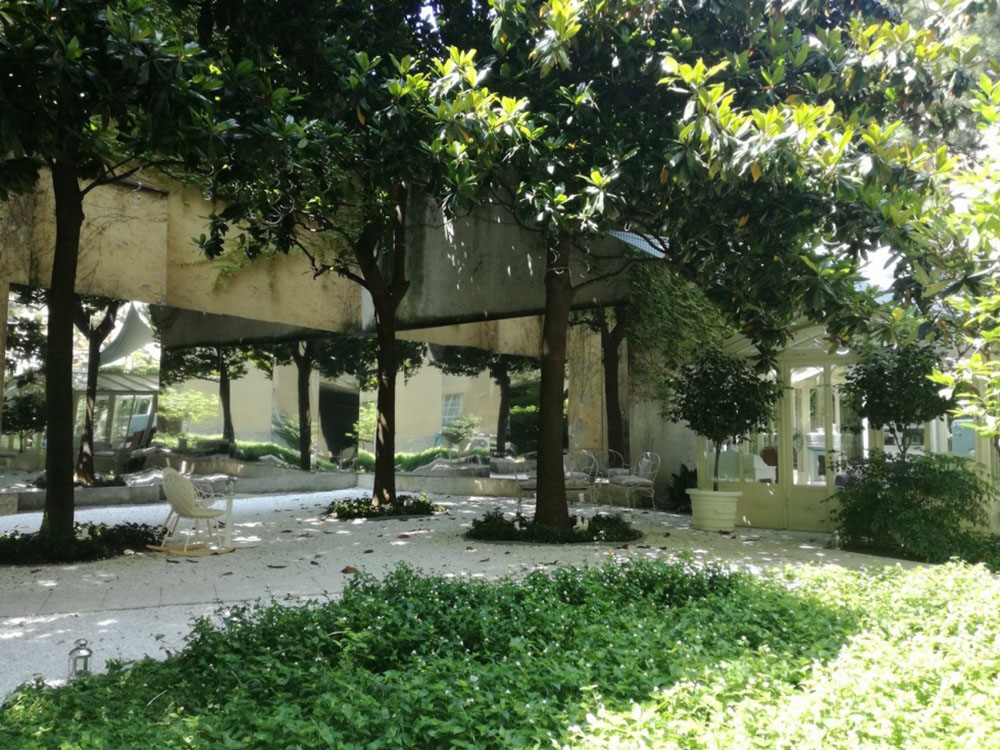 Would you like to organise a corporate event in Italy? Call us today to book this venue!
2. Milan from above: your event on an elegant rooftop
This is a popular venue for corporate events in Milan's financial world, as it is located right in the heart of the city's financial innovation district. It is managed by an important coworking network and the venue itself also offers work and meeting spaces. A splendid rooftop makes it possible to organise outdoor events while enjoying a spectacular view of downtown Milan and its iconic skyline. Choose this venue for a corporate cocktail party or networking event. This is the ideal space to host up to 40 people, in an exclusive setting, encouraging the creation of new connections, leads, and business opportunities.
3. A historic building for your events
When it comes to events, clothes make the man. In other words, the venue says a lot about the event and its organiser. Choosing one of Milan's most prestigious historic buildings, part of the FAI heritage, is a way of letting your guests know that your company cares about style, elegance, class, and history. The space is very large and has a beautiful covered loggia, perfect for summer outdoor events. We like to use it for fashion shows and corporate dinners, but this extremely versatile venue can be adapted to almost any corporate event.
4. Receive your guests on the most beautiful terrace in Milan
If you're walking around Brera, you won't be able to see this corner of paradise from the street: it's a secret place, waiting to be discovered, which makes it even more exclusive. Once you arrive on the splendid terrace of this 18th-century building, you will discover a spacious, welcoming, and elegant environment. Events can be organised here for a small audience of up to 60 people. Choose it for your press days or corporate meetings, if you want to charm your clients and put them at ease with a chilled, classy open-air event. This venue also offers regular show-cooking events and cooking classes – consider it for your next team-building event!
The magic of frescoes in a historic residence
Normally the highlight of this historic 15th-century venue is the splendid frescoed salon, but this season we suggest you focus on the cloister and garden, which the salon overlooks. Your guests will still have the opportunity to admire the wonders of this property, and then enjoy a gala dinner, a show, or an aperitif in the cool breeze of a summer evening. It is a large venue, which ensures social distancing and gives you plenty of control over the overall capacity of the venue.