---
We have been talking about virtual and hybrid events for more than a year now, exploring all possible forms of this kind of project from the point of view of both organisers and participants. However, there is one category that we are yet to explore in-depth, and which can benefit enormously from being involved in this type of activity. We are talking about sponsors, who are the backbone of so many events. On the other hand, sponsoring an event is the best way for many brands to effectively expose themselves to a well-targeted audience who is more likely to interact with them. What are the advantages of sponsoring a virtual event?

Sponsoring a virtual event (or more than one) costs less than sponsoring an in-person event
Companies that regularly sponsor events know it: no banner and no branded gadgets can ever replace the value of human interaction. Having a booth with staff who can speak directly to the audience is considered to be the main benefit of sponsoring an event. Virtual events can offer something of equal value, with ample opportunity for interaction. However, as we have said many times, virtual events are more cost-effective because the organisers save on logistics, transport, staff accommodation and meals, and venue hire. As a result, sponsoring a virtual event can cost much less than sponsoring an in-person event, although the level of interaction and exposure they offer is very similar. Moreover, the sponsors, much like the attendees, will need smaller and therefore cheaper teams to make things work. This means that the same budget needed for the sponsoring of one in-person event can cover multiple virtual ones, leading to increased exposure and ROI.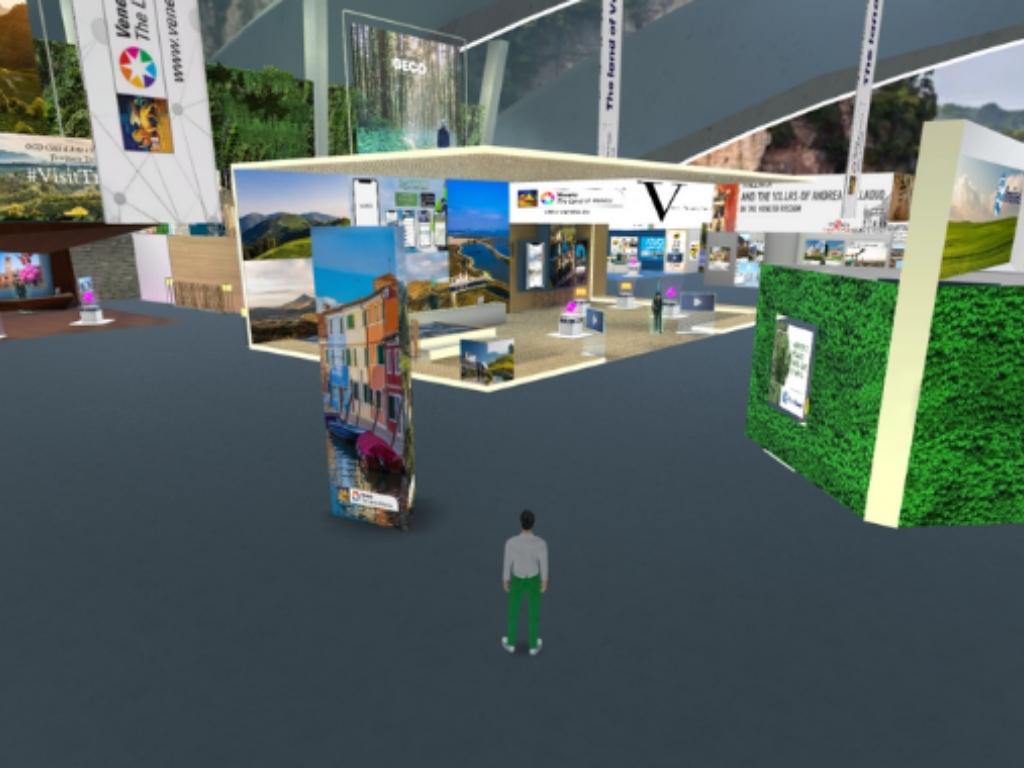 Call us today to plan your online event!
Less competition
It all comes down to budget and expenses: if we think of a big event such as a trade fair, we have to remember that, in the case of in-person events, venues tend to be overloaded with sponsors. Stands, logos on brochures, and dedicated mini-events are everywhere because a high-budget event needs ample funds, which it usually gets from multiple sponsors. This means that, inevitably, the public becomes confused and desensitised, and, to emerge, each sponsor must invest their human and financial resources in creating increasingly engaging initiatives and focusing on visual communication that attracts attention, often becoming noisy. Sponsoring a virtual event inevitably means having less competition. This is because reduced costs require fewer sponsors and, as a consequence, the space in which you compete for the public's attention will be much less crowded. This makes it easier to generate quality leads and create meaningful connections.
Faster and easier follow-up
Let's think again about trade shows and all B2B events in general. What is the critical step in the conversion/sales process that takes place in these settings? Without a doubt, the follow-up. The amount of energy that goes into a large B2B event, especially if you are travelling to attend, means that follow-up emails and calls usually happen once the event is over. You go home with a pile of business cards and notes from every single conversation and diligently set about contacting potential customers to remind them of your encounter: it is at this stage that most leads dry up because in the meantime the customer has divided their attention between a thousand other stimuli and is bombarded with follow-up requests arriving all at once. A virtual event is physically and mentally less stressful and implies the possibility to move on to follow-up naturally and organically, immediately after the interaction. Moreover, chats and messages can be stored, which means that any interaction with customers can be accurately analysed to create an offer that specifically addresses the needs of the person or company you want to target. This means that leads generated in this way have a much higher probability of resulting in actual conversions.
Are you looking for a virtual event to sponsor? Call us today!