---
Thousands of o businesses in the travel industry are struggling to pull themselves out of the Covid crisis and working hard to reach customers during the high season. It does look like a match made in heaven since most people are eager to make holiday plans after being confined at home for almost two years. However, the "new normal" poses a set of challenges that tour operators and tourism industry professionals, in general, need to address, in order to stand out against the competition and make a lasting impression on their target audiences. The ways in which they communicate and collect information, for one, need to change. The pandemic has caused a massive digitalisation shift, with increasingly large portions of our existence happening online and in-person encounters being carefully planned after weighing pros and cons. It follows naturally that all brands should massively increase their online marketing campaigns – and the travel industry is no exception in this regard. In Italy and elsewhere, Google came to their rescue, launching Destination Insights.

Destination Insights: a free tool to help the travel industry
Destination Insights is a new tool by Google. It was launched in June and – most remarkably for a professional tool – it is free to use. Google launched it in several countries, including Italy, in order to furnish travel industry professionals with useful data on travel trends and international demand, to support decision-making and planning. The tool is part of the new Travel Insights, a Google feature designed to help travellers and tour operators find each other, allowing the former to discover the best offers on the market and the latter to reach out to their target audiences easily and effectively. The fact that Google decided to make this tool free for professional use is going to be extremely beneficial to the whole industry, in that it will allow hotels, tour operators, travel agencies, and anyone who works with tourists to tailor their offer on the actual needs of the market, thus designing more cost-effective strategies.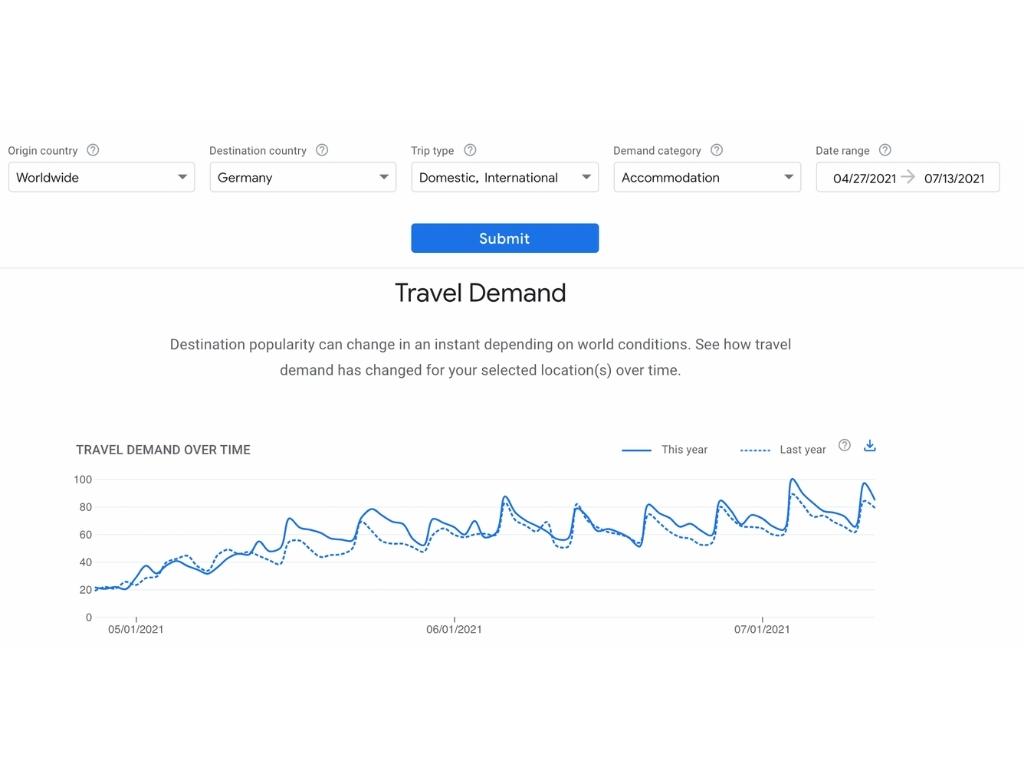 Are you planning an incentive trip to Italy? Call us today!
How it works
Destination Insights is a source of valuable information, such as the trends of Google searches during specific periods of time, which allow tour operators to determine what kind of offers are most likely to be well received by their target audiences – for instance, international vs domestic destinations, the share of users who look specifically for close-by destinations vs those who want to travel far, or the country of origins of potential travellers interested in certain destinations. In the current scenario, which is deeply influenced both by Covid-related restrictions and with lower budgets due to the economic crisis, being able to intercept domestic tourists and tailor travel packages to the actual needs of potential customers is vital to success in this field. This useful and versatile tool allows users to filter and compare different insights, taking into account specific months and individual countries or regions.
Why is Google providing a free professional tool for the tourism industry?
Google has committed to supporting the tourism industry, which it does through acceleration programmes in several countries and tools like Destination Insights. Digitalisation is the tourism industry's greatest challenge to date and it has not yet been entirely achieved, not on an international level. On one side, the availability of online booking tools has taken some of the power (and a lot of business opportunities) away from agencies and professionals and transferred it directly to the public. On the other hand, the ubiquity of such tools has made it much more important for businesses operating in this industry to create effective campaigns that can intercept potential customers at a crucial stage in their decision-making journey.